SwyftOps Update Release v1.17
We're back! At SwyftOps we love turning subscriber feedback into helpful features! We're excited to announce a slew of enhancements will be released over the next few days. Like SwyftOps itself, these upgrades are designed to improve your experience and enhance your ability to effectively manage your business.
Introducing …
How Approximate Is Your Proximity Setting?
A new proximity dashboard is available under the Schedule page and as a Today home page tile.  You can set filters for type, for a time period, and for a distance threshold to review the proximity details for all caregiver time punch activities using the app.
But that's not all!  SwyftOps users can now prevent any clock-in or clock-out if the caregiver is outside the defined proximity for a client.
Learn More about the Proximity Dashboard
Learn More about Proximity Clock-In/Out Prevention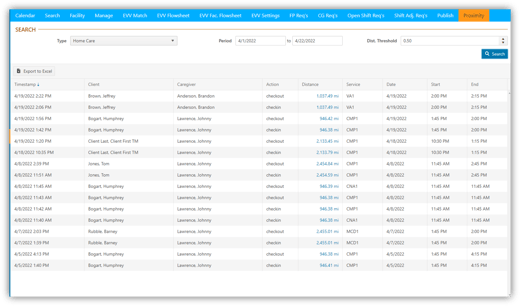 Reminders Worth Remembering!
Reminders can be set on a "per-screen" basis that will display in the upper right-hand corner of a page each time it is accessed.
This is a great tool to ensure accountability of commonly forgotten data entry points and it is fully customizable.
Reminders allow for images to be added as well!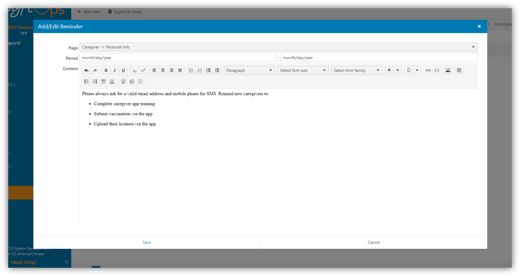 Efficiency and Consistency – Clone Commonly Used Billing Settings!
SwyftOps now allows frequently used billing settings to be quickly applied to ensure you don't miss a key aspect of data entry.
This billing settings template is a great help with VA or Medicaid-specific billing settings.  Now you can simply use a template rather than build each client billing profile from scratch!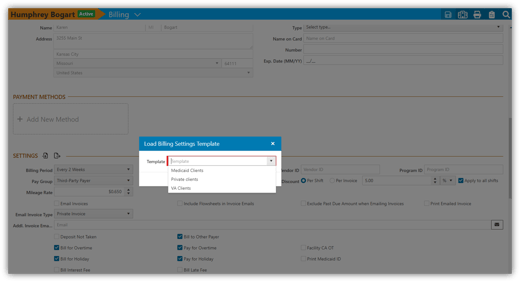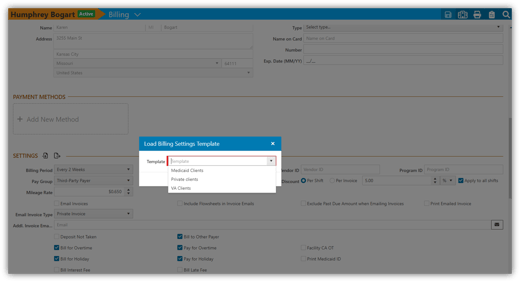 Link in the Blink of an Eye!
In a client record care plan, the ADL or IADL group instructions area now accepts hyperlinks.  These links populate to the CG app where a caregiver can access the information.  Links can be to websites, PDFs, or even videos.
Links are highly customizable and may assist a caregiver with a specific client.  Examples include websites with task instructions, documents care directions, or videos of how to change a bandage, perform a transfer, open a med box, or even where to park!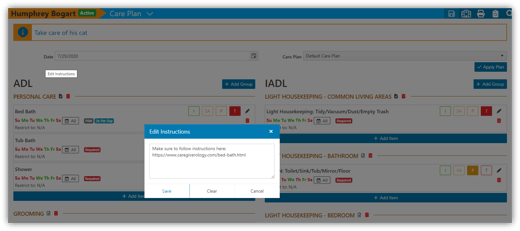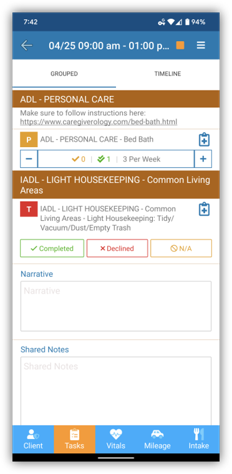 Other Features Included in This Release Are:
Assessments
Billing
Add discount amount adjustment when the discount is per invoice and in $$.
Add a setting for private invoice messages.
Client/Payer option to email invoices without past due amount.
Past due emails to clients.
Caregivers
Ability to copy license proof to documents.
Adjust current schedule when changing caregiver availability.
Change "Set Caregiver Rate" to include the selection of which service rates to change.
Global set for caregiver "Publish All Future Shifts" option.
OT exempt option for caregivers.
Search without formatting for phone & SSN.
Clients
Hide archived other payer authorizations.
Mass delete for facility schedule tasks (client general schedule).
Option to add new Payer from the Client Billing tab.
Pay rate override per client for all caregivers.
Search without formatting for phone & SSN.
Contacts
Notes section for contacts.
Dashboards
Change the Open Shifts tile report on Today (organized by date instead of client).
Add Excluded Dates tile and report for caregivers.
Add Excluded Dates tile for reports and clients.
General
Ability for custom fields in Client/Caregiver/Payer/Contact/User records.
Administrative tasks.
Allow to add links to tasks.
Capture user signature and use on assessments.
Configuration screen for dashboard tile parameters.
Enhance layout for State Specific settings under company settings.
Option to show full history in email notifications for messages.
Prevent deletion of App Survey when there are submissions for it.
Change logic for CareBridge.
Add fax and phone for the main Payer record.
Payroll
Ability to sync all/individual caregivers to PayChex.
Change Paychex sync interval to 30 minutes.
Option for CA Regional Center Daily OT exemption for payroll.
Reporting
Add "Sync to HC Pulse" and "Show Contact Info in App" to client advanced reports.
Add status for users and caregivers for Payroll Hours by Week report (corporate) and filtering.
Add status for users and caregivers for Payroll Hours by Week report (office) and filtering.
Add Territory and Department filters to EVV flowsheet reports.
Audit report for company settings, contacts, EVV settings, payers, user activity, and users.
Caregiver Competency Summary reports.
Caregiver Infections report.
Client Average Length of Service with Top Illness report (office).
Client Average Length of Service with Top Illness report (corporate).
Client Infections report.
Corporate report "Caregivers with Confirmed and Assigned Shifts Per Week".
Corporate report "Clients with Confirmed and Assigned Shifts Per Week".
Nurse Competency Summary report.
Option to show Deposit on the client invoice.
User Infections report.
Scheduling
Change Open Shifts to Assigned on Update Current Schedule when a caregiver is added.
Copy and mirror functions for shifts in Calendar view.
Do not show warnings in the schedule for archived authorizations with limits.
Enhance Global Set for schedule (for billed/paid shifts).
Add filter to EVV Flowsheets to show records without clock out.
Explanation/reason for declined open shifts.
Global Set for Family Portal requests for shifts.
Improve mileage limit warning to show actual miles limit and over miles.
Mass delete for facility schedule tasks (actual schedule).
Option to generate client excluded dates as client cancelled shifts.
Reset Late Alerts for shifts.
Save schedule columns customization.
Ability on Schedule Global Set to reapply billing/payroll configuration to selected schedules and update rates.
Consider office week start when calculating exceeded allocated hours/units/mileage.
SwyftCG App
Add Caregiver Checkout reminder email notification.
App Survey options for weekly, monthly, quarterly, and yearly.
App Survey restrictions and excluded clients/caregivers.
Show Care Plans for open shifts in the app.
Show declined open shift icon and reason in the app.
Update app Android requirement to 7.1.
Upload documents from the caregiver app.
Timesheets
On Call pay for administrative employees.
Sign up for email updates
Subscribe to receive an email when we have new and exciting updates regarding SwyftOps to share!