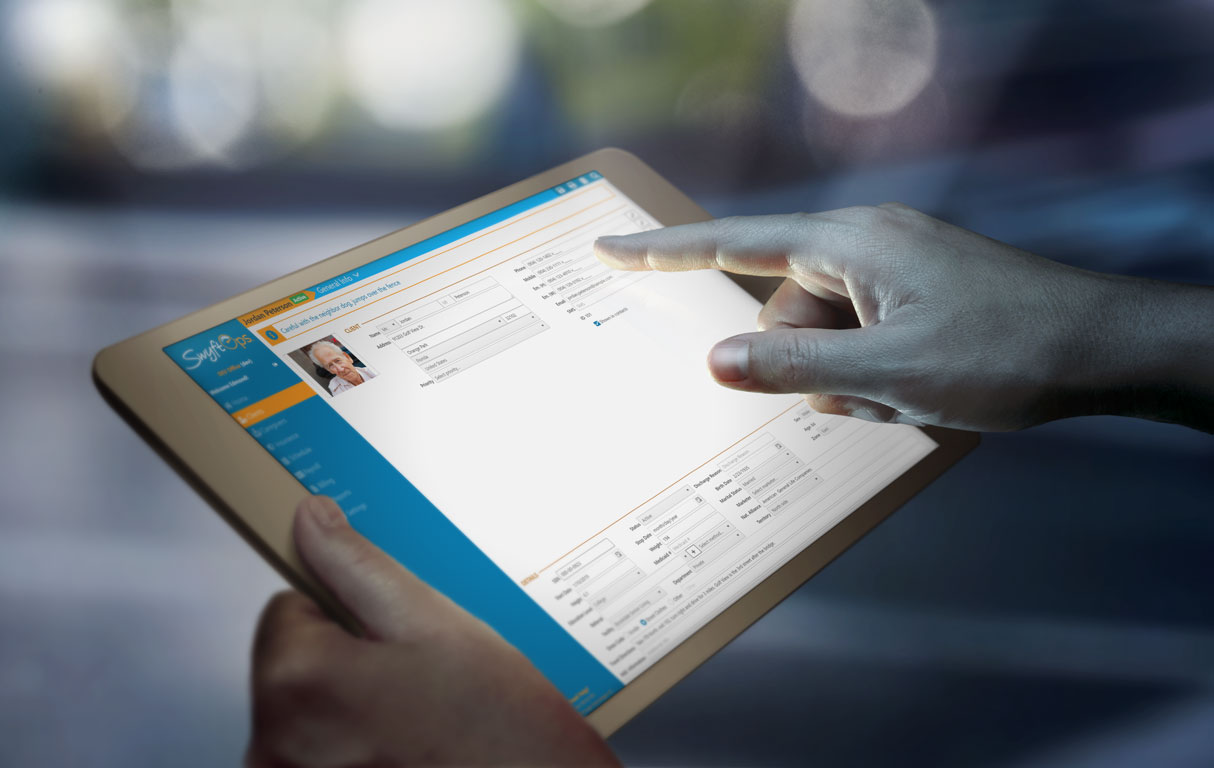 We're back! At SwyftOps we love turning subscriber feedback into helpful features! We're excited to announce a slew of enhancements will be released over the next few days. Like SwyftOps itself, these upgrades are designed to improve your experience and enhance your ability to effectively manage your business.
Introducing…
Don't Be Lax on Vax, Now Track Any Vaccinations!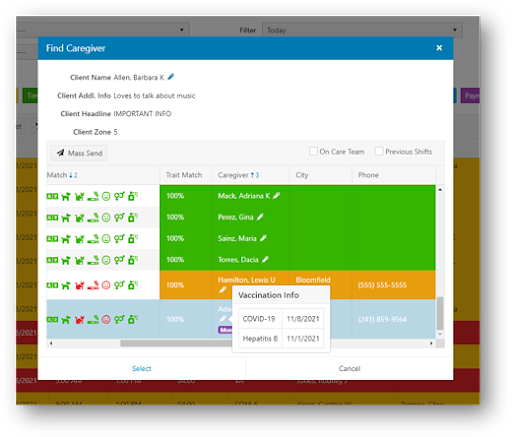 In our current global environment, the need to track various vaccinations of clients and caregivers has become increasingly important. This new feature allows you to track any vaccination in a client or caregiver profile, upload documented proof, have the information flow through smart matching/scheduling, and flow through to the SwyftCG app. On top of all of that, you can even allow vaccinations to be recorded through the app!
Mic Drop For The SwyftOps Pin Drop!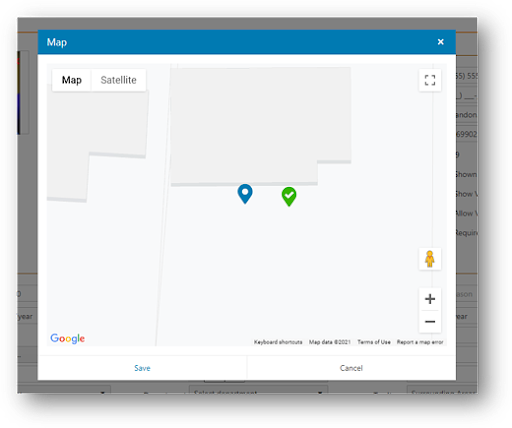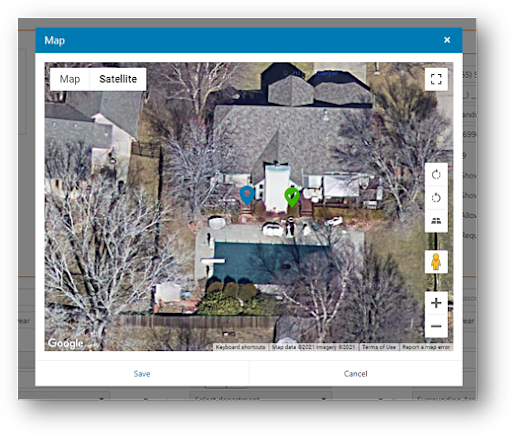 Have you ever had caregivers swear that they are standing in clients' homes, but your homecare operating software won't clock them in because they're "too far away?" The apps for such systems are beholden to third-party integrations such as Google Maps or MapQuest, and those GPS solutions are not always accurate.
To solve this issue, SwyftOps is adding (dare we say dropping?) a new feature called Pin Drop. Admins or caregivers now with the touch of a button will enact an option to "drop a pin" at that location. Those GPS coordinates will then be associated with those clients and will override Google Maps whenever caregivers are at those service locations. This will stop the proximity alerts from populating going forward.
Improve Communication with Groups, Tags, & Templates!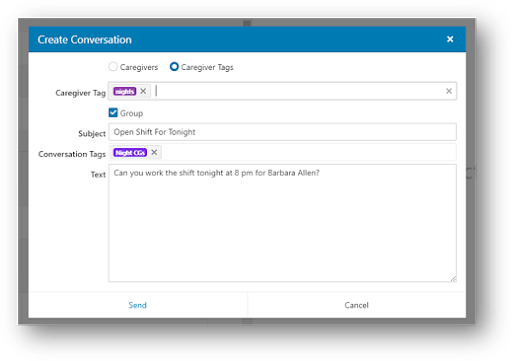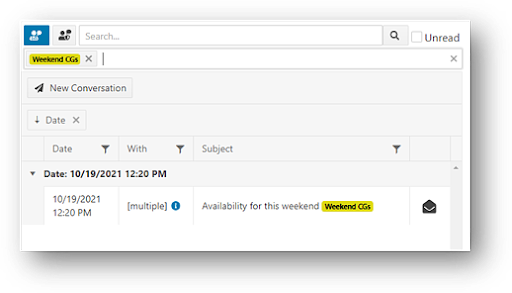 The SwyftOps built-in two-way HIPPA compliant messaging platform now allows for group messaging to your caregivers. Would you also like to create a specific group of caregivers you will commonly message? Use Caregiver Tags and click group when messaging!
Easily filter messages to specific groups by using our new Conversation tags feature!
How many times do you send the same blanket message? SwyftOps now allows you to create message templates, which can be sent via email, SMS, or two-way messaging.
Integration is…Inevitable.




SwyftOps is proud to release additional integrations with a number of preferred partners – Viventium, Home Care Pulse, Talentcare, and AdhereHealth.
Be on the lookout for our official announcements, press releases, webinars, and more in the coming weeks regarding these exciting integrations!
Other Features Included in This Release Are:
Billing
Print the Primary Payer information on an invoice as of the creation timestamp. 
Caregivers
Add a data range filter for caregiver documents. 

Add a date range plus a search by forms name ability for caregiver forms. 

Add Notes ordering ability by "Added On" date. 

Add the State ID as an entry field on the Caregiver record screen. 

Changes "Inservices" to now be named "Training". 

Allow the option to make the caregiver SSN a required field. 

Allow the option to make the caregiver email a required field.

Option to check for duplicate caregiver emails.
Clients
Add the ability to submit client forms to the Care Vault. 

Add the assessment date to the Care Vault. 

Caregiver added to the care team when added to the client's general schedule. 

Add complimentary invoice option for other payers. 

Add a date range filter for client documents. 

Add a date range plus a search by forms name ability for client forms

Add "Department" to the client search screen fields. 

Add the intake date for clients. 

Add more doctors to the specialty doctor area in the client record.

Add newborn checkbox option for clients. 

Add notes ordering by the "Added On" date. 

Add primary payer and contact to the client search fields. 

Cancel shifts for discharged clients. 

Client tags.

Mapping between assessments and the client record fields.

MAR changes to details and initials.

Mileage limit for third-party payers.

National Accounts changes and referral source integration. 

Nursing Notes option to clear data and require re-entry. 

Signed name on assessments.
Home Screen
Organize the home screen tiles. 

Territory filter on the Today dashboard.
Payroll
Show adjusted pay and previous pay on the Payroll Adjustments screen.  
Reporting
Add a-la-carte invoices to the Billings Detail report. 

Add Billable Total Hours to the billing data source.

Add parameters for Territory and Department for the Private Invoice report.

Add Physician Order report as a standard report under client reports. 

Add Total Hours to the invoice data source, payroll detail data source, and payroll summary data source. 

Add units, service date, CPT/HCPCS, and modifier to invoice reports source. 

Advanced reports for assessments. 

Allow multi-month selection for Revenue by National Account reports.

Billing by authorization report.

Order EVV flowsheets alphabetically by caregiver name. 

Report/option to print a blank care plan. 

Corporate reporting for SHA and Family Portal statistics. 

Corporate reports Revenue By Referral Source.
Scheduling
Ability to send the schedule change notification to family portal members. 

Add notes ordering by "Added On" date. 

Option to override schedule times with EVV flowsheet changes.

Shift adjustment requests.
SwyftCG App
Add the date on the schedule list / open schedule list. 

Allow entering end time on new shift requests from the app.

Client signature required option.

Remove the requirement for scheduler email when requesting an open shift. 

Shift adjustment request.
General System Updates
Ability to export/import advanced reports.

Ability to export/import assessment templates.

Ability to export/import care plan templates. 

Ability to export/import eForms.

Add date range and search by forms name for user forms. 

Add tags to messages.

Alerts based on survey response and rules. 

Allow dismissing tasks before they are due. 

Options for license reminders. 

Settings – add a tile to edit revenue sources.
Abracadabra! These features appeared because of suggestions provided by SwyftOps users!
If you have any questions regarding how these updates can improve your ability to effectively manage your business, please contact us at 1-855-55-SWYFT or request a demo.
Sign up for email updates
Subscribe to receive an email when we have new and exciting updates regarding SwyftOps to share!